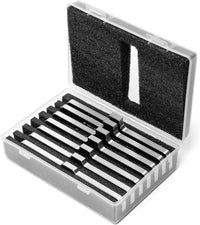 Yellowhammer 7 Piece Ultra Precision Router Table Setup Bars | 3-Gauges-In-One, Perfect For A Wide Variety of Applications | Includes Lasered Size Markings and Attractive Case
Yellowhammer's 7 Piece Ultra Precision Aluminum Router Table Setup Bars are a must have in every woodworking shop! Use these bars with your Router Table, Table Saw and even Shaper.
3-Gauges-In-One: The step on the top edge of each setup bar acts as a gauge to test the depth of your completed cuts. The concave step on the bottom of each setup bar straddles your router bit or saw blade to allow for precise height adjustment. The step on the end of each setup bar can be used to set the distance from a table saw blade to the fence, or a router bit to the fence.
WHAT'S INCLUDED: This set includes Seven 6" Long Router Table Setup Bars (1/8", 3/16", 1/4", 5/16", 3/8", 7/16" & 1/2") with a protective storage case.
HIGH QUALITY ROUTER TABLE SETUP BARS: These High-Quality Setup Bars are made from soft aluminum to prevent router bit and saw blade damage.
USES IN THE SHOP: Perfect for use with Table Saws, Router Tables and Shapers!
KEEP YOUR SHOP DIALED-IN with Yellowhammer's 7 piece Ultra Precision Anodized Aluminum Setup Bars!