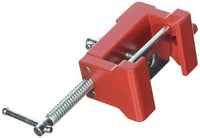 Bessey BES8511 Cabinetry Clamp
Heavy Duty steel clamp with steel sliding T-bars Specs: Clamping Capacity: 4" Throat Depth: 2"Jaw Width: 2" Clamping Force: 300-600 lbs This listing is for a two Bessey clamps.
Combines the multiple steps of face frame cabinet installation into one easy process
Holds individual cabinet edges together, plus faces flush
Face frame stiles can be tightened, aligned, pre-drilled and fastened while the clamp remains in its original position
Integrated pilot hole simplifies drilling - Durable construction provides extra strength.
Includes protective non-marring pads.