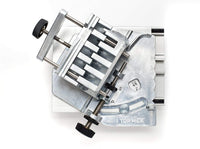 Drill Bit Sharpener Tormek DBS-22 - The Drill Bit Sharpening Jig Attachment For Tormek Water-Cooled Sharpening Systems.
For years, professional craftspeople have asked "how can I sharpen my own drill bits?" Tormek, a leader in tool sharpening for more than 40 years, has responded with this exceptional DBS-22 Drill Bit Sharpening jig. For use with all Tormek sharpening systems (T-7, T-4, T-3, and Supergrind 2000), it allows you to keep your drill bits sharp and ready to work. The four-facet grind this jig produces is worth discussing, as we feel it's infinitely superior to the common split-point grind other systems produce. The symmetrical four-facet grinding increases bit life, and allows the freshly sharpened bits to be self-centering, making your work a lot easier. Think about it – no pilot holes or punches needed for precision. Plus, a four-facet grind produces a bit that utilizes less torque and generates less heat (70% less heat) than a conventional bit. Another important aspect is this jig is part of a complete water-cooled sharpening system that will make your entire shop's worth of tools finely honed, while taking less metal off the tools and bits, increasing longevity. You can buy a stand-alone "drill bit only" machine (like Drill Doctor) that produces the inferior split-point grind, or you can have a professional-grade Tormek system with interchangeable jigs like the DBS-22. For people who love good tools and the exceptional work they produce, the choice is clear.
Amazon.com
Keep your drill bits sharp with the help of the DBS-22 drill bit sharpening attachment from Tormek. This attachment is designed to be used with either of Tormek's signature tool-sharpening systems, the T-7 or the T-3. Sharpen any bit between 1/8 inch and 7/8 inch in diameter, and create a four-facet point for exceptional drilling performance and longer bit life. The DBS-22 can be adjusted to a variety of angles depending on the style of your bit.
Highly Adjustable and Compatible with Different Bits The DBS-22 attachment can hold drill bits that measure anywhere from 1/8 inch to 7/8 inch in diameter. It can be set at any angle between 90 degrees and 150 degrees, and the optimal clearance angle can be set to 7 degrees, 9 degrees, 11 degrees, or 14 degrees, depending on the bit size and material.
About Tormek Tormek is committed to providing the best solutions for the sharpening of all types of edge tools. Well grounded in Swedish traditions for advanced innovation, functionality, and quality, Tormek has developed a unique sharpening system that has come to set the standard in modern edge tool sharpening.
Since 1973, problem-solving through innovation has been a strong driving force for Tormek. This has resulted in 13 patents and the widest product range on the market. It includes 16 unique jigs and attachments, each one specially designed to easily achieve optimal sharpness on all kinds of edge tools.
Today, Tormek exports to more than 30 countries worldwide. The products are appreciated by cabinet makers, carpenters, woodcarvers, and wood turners as well as serious chefs in restaurants, industrial kitchens, and households. The Tormek sharpening system is also widely used in professional sharpening businesses.
All of Tormek's product development, engineering work, and production are done in Sweden. The company is located in Lindesberg, a small town in the heart of Bergslagen, an area known for its history in mining. The production is carried out in close cooperation with selected suppliers, all specialized and the best in their fields. This ensures the highest quality and a continuous access to the best and most modern manufacturing technology.
What's in the Box One base plate, one guide, one setting template, one drill bit holder, one magnifier, and instructions.
4-facet point brings the point to a chisel edge that will not walk and bores round, straight holes with close tolerances
The always equal two cutting edges are sharpened symmetrically and work in perfect unison which prolongs the life of the drill
Sharpens all point angles between 90 and 150 degrees
The optimal clearance angle can be set according to each drilling requirement to 7, 9, 11, or 14 degrees
One drill holder sharpens drill bits from 1/8-Inch (3mm) to 7/8-Inch (22 mm)