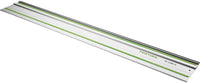 Festool 491504 42" Guide Rail FS 1080/2 (1080mm)
Make your jobs easier by bringing the tool to the work. Available in eight different lengths, there's an ideal rail for every application. In addition, Guide Rails are quickly and securely connectible to allow for customized cutting lengths, plus easier transportation and storage.
Festool FS Guide rails are available in eight different lengths from 32 inches to 197 inches (800 - 5000 mm), providing the right rail for every application. The integrated splinterguard aligns perfectly to your cut line, saving set up time and serving as protection against tear out, on cuts both with the grain and across. Guide rails can be easily connected using the accessory guide rail connectors for a rigid, secure and continuous connection. Guide rails make work easier by taking the tool to the work, and save time and money by eliminating laborious measurements, rework and wasted material. Use the FS 1080 Guide Rail (42 inches) with the Festool TS Plunge cut saw to make precision cuts up to 36 inches long. Connect rails using Festool Guide Rail Connectors to make limitless cuts.
Country Of Origin: Germany
Model Number: FS-1080/2
Item Package Dimension: 47.0" L x 9.5" W x 1.0" H
Item Package Weight: 3.6493 lb