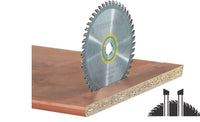 Festool 495377 Fine Tooth Cross-Cut Saw Blade For TS 55 Plunge Cut Saw - 48 Tooth
Fine tooth saw blade 160mm x 2.5mm x 20mm for clean cross cuts in all wood materials. 48 teeth, ATB (alternating top bevel), for TS/ATF 55.
Festool saw blades are engineered and designed for cutting efficiency, long-life, and superior cutting results. The carbide tipped Fine Tooth Cross-Cut Saw blade for the TS 55 Plunge Cut Saw is an excellent blade for smooth cross-cutting in veneered plywood, sheet goods, melamine, and hard and soft woods. This blade incorporates an offset tooth design known as ATB (Alternating Top Bevel), allowing the blade to cut alternately to the left and right, generating a more efficient and cleaner cut in all types of wood. This thin-kerfed blade design meets less resistance, for more efficient cutting, and produces less material waste. Laser cut expansion slots reduce vibration for faster, quieter cutting. An oversized 20mm arbor enables more secure fastening of the blade to the saw, further reducing vibration for more precise cutting.
48 tooth; 2.2mm kerf; 20mm arbor; 5 deg hook angle; ATB
Cross-cut blade for smooth cuts in veneered plywood, sheet goods, melamine, and hard and soft woods
Oversized 20mm arbor enables more secure fastening of the blade to the saw, reducing vibration for more precise cutting
Thin kerfed blades meet less resistance, for more efficient cutting, and produce less material waste
Laser cut expansion slots reduce vibration for faster, quieter cutting