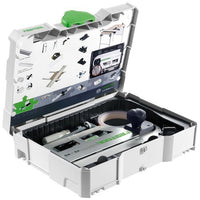 Festool 497657 FS Guide Rail Accessory Kit
A complete kit to maximize usage with Festool plunge saws or routers. Kit includes: angle unit, return/limit stop, 55" splinter guard, deflector, 2 guide rail connectors, 2 screw clamps; and T-LOC Systainer 1.
A complete kit to maximize the value of your FS guide rails when used with your Festool plunge saw or router. Quickly set angles for both mitered and compound cuts using the Angle Unit. Make accurate repeat cuts using the Limit Stop. Work more efficiently by attaching the included Deflector to the end of your rail to prevent your suction hose and cords from getting snagged. Connect rails for limitless cutting with the included Connectors. Use the two included Screw Clamps to for more secure, reliable cutting. Also includes replacment Splinterguard for splinterfree cuts. Includes: 1 Angle unit, 1 Limit Stop, 1 Replacement Splinterguard (1400 mm), 1 Hose and Cord Deflector, 2 Guide Rail Connectors, and 2 Screw Clamps, all packed in a Systainer 1. Made in Germany.
A complete kit to maximize the value of your FS guide rails when used with your Festool plunge saw or router
All the things you need, packed neatly and conveniently in a Systainer. No need to spend time looking for the pieces
Angle Unit for mitered or compound cuts, Limit Stop for repeat cuts, Deflector for more efficient cutting, Connectors for limitless cutting, and more
Includes: 1 Angle unit, 1 Limit Stop, 1 Splinterguard (1400 mm), 1 Deflector, 2 Guide Rail Connectors, and 2 Screw Clamps, packed in a Systainer 1
Made in Germany