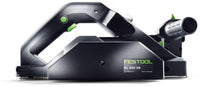 Festool 574690 HL 850 E Planer
The Festool HL 850 E Planer allows you to easily make cuts that are flush with an adjacent piece of material by planing across the width of the rabbet for even smoothness along the entire edge. The asymmetrically mounted planer head makes it easy to line up your cuts with the inside of the planer housing. You can easily adjust the rabbeting depth limitlessly on this Festool planer with just one hand while you are using it. Of course, safety is even more important than the ability to make straight, perfectly flush cuts. The retractable side guard keeps your hands away from the sharp blade.
Perfect for Every Job
The Festool HL 850 E Planer takes a variety of planer heads so you can get the look you want for your furniture or other project. The one-hand adjustable rabbeting depth capability also allows you to create freehand undulations. It is easy to change the HL 850 E Planer's blades, and the rotary handle makes depth adjustment up to 9/64" easy too.
Using an electric planer right up to the edge or on rabbets often produces unsatisfactory results, as the machine leaves a lip that has to be removed by hand—unless you have the Festool HL 850 planer. The HL 850 lets you cut flush to an adjacent surface because it can plane across the entire width of the rabbet. Because the planer head is mounted to one side, it sits flush with the opposite side of the planer housing. The retractable side guard makes planing safer, and it swings up and to the side as the rabbet depth increases. Planing up to the edge in deep rabbets is no longer a problem. For super smooth cuts with less to no re-work the HL 850 uses a spiral, single-knife cutter-head for smooth and clean cuts with less noise. On most planers with two knives, they must be set to the same height to achieve best results. This is tricky at best. The single-knife cutter-head eliminates this problem while providing a simple and easy knife change. Near total dust extraction is possible thanks to the efficient internal design and multi-position dust extraction port. Smooth cuts are also a result of MMC electronics that provide soft start for jolt-free start and constant speed under load for consistent cutting results without bogging down. Precision depth control is simple and allows for adjustment to 1/256 inch (1/10 mm) by turning the forward rotary handle. The positive lock mechanism ensures that the bed is locked firmly for precise, repeatable results. The HL 850 can also accept accessory Festool cutter-heads to create textured "rustic" effects in architectural pieces and flooring for a unique look in the fraction of the time of laborious hand work. Convert the HL 850 into a stable and robust bench-top jointer with Festool accessory support stand and angle stop fence unit. The bed of the HL 850 is long and makes it ideal for planing and scribing doors, filler strips, and cabinet to fit. Made in Germany.
Single knife cutter-head with spiral design with replaceable cutting knife for a smooth, quiet and "chatter-free" cut.
Multiple head options to create rustic architectural effects in beams and flooring.
Unlimited rabbeting depth with flush cutter side design and retractable spring-loaded guard.
Rotary handle depth adjustment allows precise depth setting to 1/256" (1/10 mm) up to 9/64" (3.5 mm).
highly efficient dust extractable design accomodates extraction from either side for less mess and clean up.