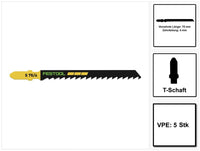 FESTOOL Clean-Cut Jigsaw Blades S75/4,
A package of five (5) 204305 S 75/4/5 Basic Wood Cutting Jig Saw Blades for use with Festool Trion and Carvex Jig Saws. Basic Wood Blades have cross-cut style teeth for quick cuts in wood where precision is not required. The high grade HCS tool steel gives outstanding results on wood materials. Blades are 3" (75mm) long with 6-7 TPI and will cut through material up to 1-3/16" (30mm) thick. Made in Germany.
Cross-set teeth for fast cutting in wood.
Made in Germany.