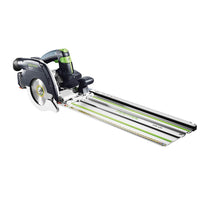 Festool HK 55 EQ-FSK420 Circular Saw
The HK 55 EQ Circular saw is the ultimate in efficiency. This saw is not only faster and more accurate than other jobsite saws, the unparalleled level of Festool quality is built in to every aspect of this saw. You can perform practically all jobsite cutting tasks with this one tool. Making exact and repeated cuts quickly and accurately anywhere – without taking materials to a mitersaw or sacrificing accuracy with a standard circular saw – makes this the ultimate solution for all wood processing on the jobsite. Coupled with FSK Guide Rails with integrated angle stops, this HK Saw delivers a higher degree of efficiency, repeatability, accuracy, and quality of cut that is unlike any circular saw before. Saw is also compatible with all existing FS Guide Rails (not included). When used in conjunction with FSK Guide Rails, their integrated angle stops make repeatable cutting fast and accurate, thanks to the integrated retraction feature.Includes: HK 55 EQ Circular Saw, FSK 420 Guide Rail, 18-Tooth Saw Blade, SYS 5 SYSTAINER, Owner's Manual and a Three-Year Warranty.Specs: Power Consumption: 1200 W Saw Blade Diameter: 6-1/4" (160mm)Idling Speed: 2,000 - 2,500 RPM Angle Range: 0-50° Cutting depth 0°: 0 - 2-1/8"Cutting depth 45°/50°: 1-5/8"/1-1/2" Guide Rail Cutting Length: 16-1/2" Dust Port: 27mm ID and 36mm ODWeight: 9.7 lbs.
Perform practically all jobsite cutting tasks with one tool
Saw is compatible with all existing FS Guide Rails (sold separately)
Saw blade diameter: 6-1/4"