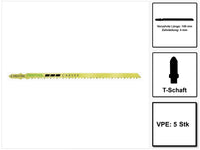 FESTOOL Jigsaw Blades S145/4 FSG - Pac
A package of five (5) 204335 S 145/4 FSG/5 Universal Wood Cutting Jig Saw Blades for use with Festool Trion and Carvex Jig Saws. Universal Wood Blades are cross-cut style for perpendicular cuts, and encompass all relevant applications involving wood. Also ideal for use in combination with a Festool Guide Rail. The high grade HCS tool steel gives outstanding results on wood materials. Blades are 5-3/4" (145.00 mm) long with 6-7 TPI and will cut through material up to 3-15/16" (100 mm) thick. Made in Germany.
Cross-set teeth, conically ground for quick cuts in exact angles in wood.
Made in Germany.