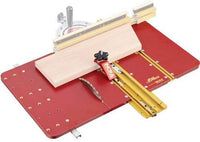 INCRA MITEREXPRESS Miter Express
If You Own A Miter Gauge - Any Miter Gauge - You Can Turn It Into A Performance Boosting Miter Sled In Just A Few Seconds By Simply Docking It In Place On Top Of This Unique Sled. This Sled Is A Sliding, Miter-Cutting Platform That Fully Supports And Controls Your Work piece Throughout The Cut. Miter Gauges Drag Your Board Across The Table, A Sled Slides The Work piece Giving More Support And Control Creating Better, More Consistent Cuts. The Miter Express Is Designed To Let You Instantly Drop And Lock Your Miter Gauge Into The Sliding Platform. Once Docked, It Stays Put Until You Undock It To Switch Back To Your Regular Miter Gauge. The Sled Features A Built In Miter Bar That Is Adjustable For Zero Side Play Tracking, So Even If Your Old Miter Gauge Is Loose In The Miter Slot It Becomes Rock Solid Once Its Locked Into The Express. Other Features Include Two Embedded T-Tracks To Secure The Included Hold Down Clamp To Anchor Your Work piece, A Locking Drop Panel That Supports The Offcut, And Also Provides Zero Clearance Tear Out Control. Note: Miter Gauge Shown In Photo Available Separately., Upgrade Any Miter Gauge To A Miter Sled In Seconds. , Doubles Any Miter Gauge's Crosscut Range Up To 24" , Safely Handles Both Extra Large And Extra Small Work pieces. , Eliminates All Side Play Between Table Saw's Miter Slot And Any Miter Gauge.
INCRA's Miter Express offers any miter gauge owner the safest and most accurate cross-cutting and mitering platform available. Just add your favorite miter gauge to double your crosscut capacity up to 24". The Express features two embedded T-Slot channels to secure the included Hold Down Clamp and Outboard Fence Support. These slots are also invaluable for mounting your own custom Jigs and Fixtures. You can Dock & Lock Any Brand of Miter Gauge in Seconds. Removing your gauge is just as easy - simply release three locking screws and lift your gauge out cleanly. There is absolutely no modification required to your miter gauge for this speedy lock and release feature.   The Miter Express features removable front and rear T-Slot Retaining Clips for sled stability at both the beginning and end of long crosscuts. The miter bar is conveniently adjustable from above for a perfect fit in standard miter gauge slots measuring 3/4" wide x 3/8" deep. The miter bar's adjustment range accommodates actual slot widths of 0.740" to 0.760" to guarantee a perfect fit in your table saw's miter slot.
If you own a miter gauge - any miter gauge
This sled is a sliding, miter-cutting platform that fully supports and controls your work piece throughout the cut
Miter gauges drag your board across the table, a sled slides the work piece giving more support and control creating better, more consistent cuts