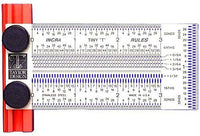 INCRA TINYT03 Precision Tiny T-Rule 3-Inch
The Tiny-T is has T-square capability, 64ths running horizontally across the rule and 28ths vertically. Made of sturdy stainless steel, the Tiny-T has exclusive Micro-fine Guide Holes to locate your mark exactly on target. It is like a combination square that's always set to every measurement and far more accurate. Use the 64ths for ultra-high resolutionT-bar is adjustable for making precise vertical measurements. Precision T-square capabilities for marking at right angels to the edge of your work. Any INCRA rules can be used for marking on metal. When accuracy counts - INCRA RULES.
INCRA scores again with its precision steel T-Rules ... Select the proper slot or hole, insert a .5mm mechanical pencil, and place your mark with dead-on accuracy. Rather than readjusting the tool for your next mark as you would with a combination square, simply move the pencil to another hole. Amazingly simple and perfectly accurate. This is our pocket sized Tiny T-Rule. Measuring only 3" by 4.5". It offers INCRA's patented marking holes at every 1/16th, 32nd, and 64th from 0 to 3 inches. It also has slotted height marking holes at every 32nd on the end. This size is so handy many of our customers keep it in their pocket anytime they are in the shop. Great for detailed small projects and layout jobs.
3" by 4.5" size fits in your shop apron pocket
INCRA's patented marking holes at every 1/16th, 32nd, and 64th from 0 to 3 inches
Micro-fine marking holes and slots place your mark exactly on target
T-bar follows the edge of your work piece to mark perfectly placed horizontal or vertical lines