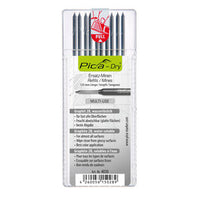 Pica 4030 Dry Graphite Refill- 10 Pack
The 
Pica 4030 Graphite Refill for the Pica Dry® Longlife Automatic Pen is a water
soluble "multiuse" lead. The 4030 graphite can be used on almost every surface,
no matter if wet or dry, glossy or rough, dusty or oily, and can be wiped clean
from glossy surfaces with a damp towel. The Pica 4030 leads come already
sharpened and inside a sturdy, reusable plastic box. 10 leads for the Pica-Dry Longlife Automatic Pen.