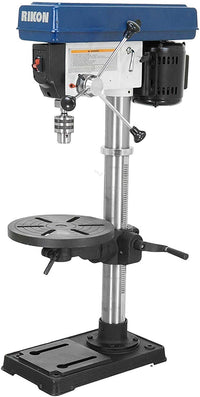 RIKON 30-120 13-Inch Drill Press
30-120 Features: -Bench drill press. -Rack and pinion table height. -Clutch depth stop. -Set your drill depth easily and accurately. Generic Specifications: -Powerful 0.5 hp motor. Generic Dimensions: -39" H x 13" W x 24" D, 121 lbs. Dimensions: Overall Height - Top to Bottom: -39 Inches. Overall Width - Side to Side: -13 Inches. Overall Depth - Front to Back: -24 Inches. Overall Product Weight: -121 Pounds.
Amazon.com
Featuring the exceptional durability of solid steel and cast iron construction, the RIKON 30-120 13-Inch Drill Press offers the convenience of 16 spindle speeds and large cast iron handle for easy operation. Powerful and easy to use, the 30-120 has a 13-inch swing, and it is ideal for both the hobbyist and professional user.
Cast Iron and Solid Steel ConstructionBoasting rugged cast iron and solid steel construction for vibration-free operation, this drill press is built to last. Complete with a cast iron head, tilting table, and base, as well as comfortable solid cast iron handles that will not bend or loosen after repeated use, the 30-120 provides reliable performance job after job, making it an ideal addition to a variety of job sites and shops.
Easy-Adjust Table Height, Table Tilt, and Convenient Slot DesignDesigned to be exceptionally easy to use, the 30-120 is packed with helpful features. The table height conveniently adjusts with rack and pinion gears, which means you can make quick adjustments with the simple turn of a handle.
It also features a convenient slot design, which makes for fast, easy mounting of jigs, vises, and fixtures. For added convenience and to accommodate different material sizes, the 11-3/16-inch table also tilts 45 degrees right or left and rotates a full 360 degrees.
Dimensions and Warranty InformationThe 30-120 has a height of 39 inches, depth of 24 inches, and weighs 121 pounds. It is backed by a two-year warranty.
What's in the BoxRIKON 30-120 13-Inch Drill Press with drill press head, arm, table support, table, column assembly, base, two loose hardware bags, chuck, owner's manual, and cast iron handle.
Powerful 1/2HP motor
16 Spindle Speeds (200-3,630)
Solid Steel and Cast Iron Construction
Rack and Pinion Table Height
Clutch Depth Stop