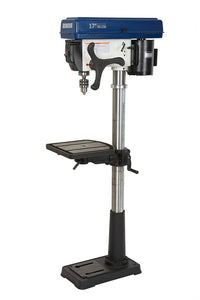 RIKON 30-230 17-Inch Floor Drill Press
30-230 Size: 17" Features: -Drill press.-Rack and pinion table height.-Clutch depth stop.-Powerful, efficient and smooth operation.-Set your drill depth easily and accurately.-Great  for repeatable drilling.-Adjusting table height is easy with the turn of a handle.-16 Spindle speeds (200-3,630).-17-in.: 65" H x 14" W x 17" D.-20-in.: 68" H x 18" W x 20" D. Construction: -Solid steel and cast iron construction.-Rugged heavy duty construction for vibration free operation. Specifications: -Powerful 1 HP induction motor. Warranty: -Manufacturer provides 5 years warranty.
Amazon.com
Built to last, and full of features that help increase productivity, the RIKON 30-230 17-Inch Floor Drill Press is ideal for professional or do-it-yourself use. Its steel and cast iron construction and easy adjustments provide powerful, efficient performance. Whether you're working at home or in commercial shop, the 30-230 gives you more options to get the job done right.
Table Height Adjusts EasilyThe 30-230 features rack and pinion table height adjustment, which makes adjustments a simple matter of turning the large handles. And you'll never have to worry about breaking or bending the handles as you work--they're made of solid cast iron for exceptional durability.
Efficient Design for Streamlined WorkTo ensure precision and to save you time, the 30-230 also offers the convenience of a clutch depth stop, which makes it a snap to quickly set the drill depth. This feature is particularly helpful during repeated drilling. And to maintain an organized space where everything you need is at your fingertips, the 14-inch by 14-inch table includes slots for quick mounting of your jigs, vises, and figures.
Solid Steel and Cast Iron ConstructionDesigned to be reliable year after year, the 30-230 boasts the ultra-durability of solid steel and cast iron construction. The rugged design and materials allow for vibration-free performance, helping to improve accuracy and consistency.
Dimensions and Warranty InformationThe 30-230 has a height of 64-3/8 inches, weighs 188 pounds, and is backed by a two-year warranty.
What's in the BoxRIKON 30-230 17-Inch Floor Drill Press with table, chuck, one bag of loose parts, drill press head, feed handle, column assembly, base, one bag of belts, and owner's manual.
Powerful 1HP Induction Motor
16 Spindle Speeds (200-3,630)
Rack and Pinion Table Height
Solid Steel and Cast Iron Construction
Clutch Depth Stop