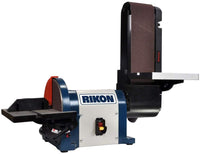 RIKON 50-114 4" x 36" Belt / 8" Disc Combo Sander
Table
Disc Table Size 10-3/8" x 5-7/8"
Tables Tilt 0° to 45°
Miter Gauge Included
Miter Gauge Slot (16 x 6.5mm) 5/8" x 5/16"
Belt Table Size 7-1/2" x 6-1/4"
Belt
Size 4" x 36"
Speed 2,165 SFPM
Tilt 0° – 90°
Disc
Diameter 8" PSA
Speed 3,450 RPM
Overall
Height 20"
Width 25-1/4"
Depth 14"
Base Size 10-7/8" x 8-5/8"
Dust Ports 2@1-1/2" O.D.
Machine takes the most popular 2" x 72" belts or adjusts for using special 2" x 76" belts.
Belt arm adjusts 180 degrees, from a forward horizontal position, to 90 degrees upward, to laying backwards horizontally. This allows full user access to working on the drive wheel, with the tool rest and platen, or free shaping on the belt.
5-1/2" x 2" flat tool rest adjusts to most any angle for positioning workpieces accurately to the belt.
Includes template for accurate drilling of holes for mounting the machine on workbenches or stands. Hardware is not included.
8" long 1" diameter spindle will take optional sanding flap wheels, pneumatic sleeves, or buffing wheels for added shaping and finishing of projects.