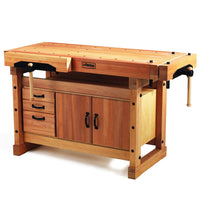 Sjobergs Elite 1500 Workbench plus Cabinet Combo
Constructed of European beech, the top thickness is 3-11/32" in the center (4-5/16" skirt), and it comes treated with a premium quality enriching oil. The specially developed vises provide an enormous clamping power across 23-1/2". You will be amazed by the clamping speed, accuracy and smoothness.To accommodate both right- and left-handed users, in less than two minutes the front vise can be fitted on either side, with a double row of 1" round dogs you can work from both vises. With its huge range of accessories, a Sjöbergs Elite Workbench will be the perfect foundation for your workshop.
Table surface is 35-1/2" off the floor
Top is 54" long and 23-5/8" wide
Vises open 5-3/4"
Storage cabinet also available
Assembled weight is 229 lbs.; with optional cabinet 286 lbs.