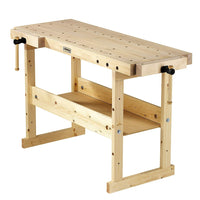 Sjöbergs Nordic Plus 1450 Workbench SJO-33448
The Sobers Nordic line of workbenches offers versatility and long-lasting quality to the serious woodworking hobbyist without breaking the bank. Perfectly sized for a medium-sized shop, the Nordic Plus 1450 Workbench is ideal for a wide variety of woodworking and household projects.
Based upon the latest Sjöbergs design, this Nordic Plus bench gives you the size you need at a price you can afford. The amazing versatility of vise location permits left or right handed use or clamping on both ends, or dual clamping on the front. The top is made of panel-glued European birch to withstand rough treatment. The sturdy trestles are made from Nordic pine. All the wood is FSC certified which guarantees forestry renewal. This hard Nordic birch top is built to last a lifetime of normal use, and has a double row of 3/4 clamping holes working from each of the 4 vise locations, giving an endless opportunity to clamp your work.
Workbench top is crafted of hard Nordic birch for a long life
Double row of dog holes running from any vise location
Vises can be reconfigured for right- or left-handed use
(4) round bench dogs included