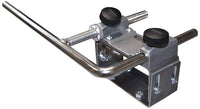 Tormek BGM100 Bench Grinder Tool Rest Mount Kit for Tormek Sharpening Jigs
Amazon.com
Sharpen your tools quickly and precisely with the help of the BGM-100 bench grinder mounting set from Tormek. This set enables you to mount any of three Tormek woodturning jigs to your bench grinder: the SVD-185 gouge jig, the SVS-50 multi jig (for skew chisels), or the SVD-110 tool rest. You can mount it to either side of your grinder, and rubber feet add stability and reduce vibration.
Benefits of Mounting a Jig onto Your Bench Grinder Doing the initial shaping of a tool is often faster on a bench grinder. However, it can be difficult to control the tool by hand, and it's easy to accidentally remove more steel than necessary. By attaching a Tormek jig to your bench grinder with this mounting set, you can sharpen your tools quickly but precisely, with greater control and more consistent results.
Simple, Flexible Installation You can mount the BGM-100 on either side of your bench grinder, and either to a wooden platform or directly to the bench--whichever best suits your needs. The mounting set is designed for grinders with wheel diameters between 6 inches and 10 inches, and your wooden platform must be at least 3/4-inch thick. Using the included rubber feet will give you steady performance with less vibration.
About Tormek Tormek is committed to providing the best solutions for the sharpening of all types of edge tools. Well grounded in Swedish traditions for advanced innovation, functionality, and quality, Tormek has developed a unique sharpening system that has come to set the standard in modern edge tool sharpening.
Since 1973, problem-solving through innovation has been a strong driving force for Tormek. This has resulted in 13 patents and the widest product range on the market. It includes 16 unique jigs and attachments, each one specially designed to easily achieve optimal sharpness on all kinds of edge tools.
Today, Tormek exports to more than 30 countries worldwide. The products are appreciated by cabinet makers, carpenters, woodcarvers, and wood turners as well as serious chefs in restaurants, industrial kitchens, and households. The Tormek sharpening system is also widely used in professional sharpening businesses.
All of Tormek's product development, engineering work, and production are done in Sweden. The company is located in Lindesberg, a small town in the heart of Bergslagen, an area known for its history in mining. The production is carried out in close cooperation with selected suppliers, all specialized and the best in their fields. This ensures the highest quality and a continuous access to the best and most modern manufacturing technology.
What's in the Box One universal support, one horizontal base, one height-adjustable block, hardware, four rubber feet, one set of profile labels, and one instructional handbook.
Tormek Bench Grinder Mount Kit
Allows you to use your bench grinder for shaping with the Tormek sharpening system.
Allows you to use Tormek jigs with your bench grinder.
With or without Tormek machine you can still benefit from the precise Tormek jig system on your bench grinder and easily get the desired shape and edge angle.
Includes height adjustable block and hardware for easy mounting to your bench
The principle for setting the shape and edge angle is the same regardless of which machine you use.