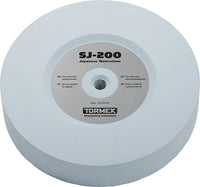 Tormek SJ-200 8-Inch Japanese Waterstone for T3 sharpening system
This is the smaller version of the Tormek Japanese Waterstone,SJ-250, which has the same composition and qualities. SJ-200 fits Tormek T-4 and previous Tormek models with a 200 mm stone diameter.
Tormek SJ-200 Japanese Waterstone fits T-3, 8" / 200mm
Delivers a mirror finish
No honing necessary
Grit size: 4000
Extremely long life
Removes minimum steel where a superior surface finish is demanded.