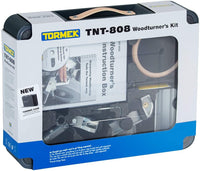 Tormek TNT-808 Woodturner's Kit - A Complete Turning Tool Sharpener Kit for Tormek Water Cooled Sharpening Systems – Includes Everything You Need to Shape and Sharpen All Your Turning Tools
TNT-808 Woodturner's Kit
Contains Everything You Need to Shape and Sharpen All Woodturning Tools.
Experience woodturning with razor-sharp tools!
The Woodturner's Kit contains a Gouge jig, a Multi jig, a Tool Rest, a Profiled Leather Honing Wheel, a Turning Tool Setter for easy setting of bevels, a Machine Cover, a premium Tool Box and a comprehensive DVD that walks you through using the kit. Everything you need to sharpen your fingernail shaped bowl gouges, spindle gouges, beading tools, skew chisels, and much more – your sharpening acumen will be limited only by your imagination.
Jigs for sharpening all your woodturning tools
Bowl & spindle gouges
German spindle gouges
Cutters
Skews
Roughing Gouges
Parting Tools
Scrapers
Bent & curved gouges
The Tormek Way of Sharpening
The Tormek way of sharpening differs from other grinding methods like high-speed bench grinders and belt sanders. Tormek makes a clear distinction between shaping and sharpening. Once the tool is shaped to the right shape, you remove only a minimal amount of steel when sharpening – you just touch up the edge. An important benefit of the minimal steel removal is that the sharpening is fast, in addition, your precious tools will last much longer. Newly sharpened turning gouges and skews can create the most delicate details and leave the cleanest cuts possible with little or no need for sanding.
Nick Agar, Professional Woodturner
"As a professional Woodturner, I have many different types of tools I need to sharpen. The TNT-808 Woodturner's Kit covers all my needs! Theses jigs and accessories are all used here in my classroom by my students and by myself. Safe and accurate sharpening and as my saying goes "I sharpen my tools, not shorten them"."
Contains Everything You Need to Shape and Sharpen All Woodturning Tools
Packed in a Premium Tool Box with a Durable Insert for Easy Storage
Jigs to Sharpen Gouges, V-tools, Turning Chisels, Parting Tools, Roughing Gouges etc.
Turning Tool Setter to exactly replicate the edge angle on your bowl and spindle gouges
Profiled Leather Honing Wheels to Hone the Inside of Turning Gouges, Carving Gouges and V-tools